We are thrilled that Nathaniel Comfort and Alexandra Minna Stern, two leading scholars of the history of eugenics and the shifting uses of medical genetics in the United States, will join the Center for Genetics and Society for Talking Biopolitics 2015.
For the first time in a live online conversation, Nathaniel and Alexandra will discuss their research alongside each other, and answer your questions. They will share insights based on their extensive work and thinking about the history and ongoing implications of the quest for "human perfection" in an age of rapidly advancing genetic technologies.

This online discussion is free and open to the public, but registration is required!

Nathani
el's recent book,
The Science of Human Perfection:
How Genes Became
the Heart of Ameri
can Medicine
, was described by
Science
as "a beautifully written account of how genes became central to American medicine."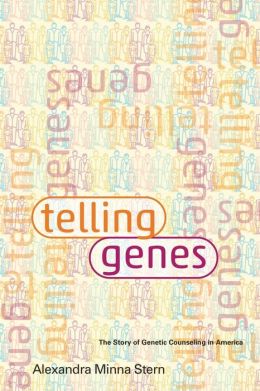 Alexandra's recent book, Telling Genes: The Story of Genetic Counseling in America, was lauded by Paul Lombardo, who said, "Stern's masterful account includes a lucid analysis of incendiary debates involving race, disability, and abortion that have surrounded the field of genetic counseling and deftly navigates the troubled historical waters between genetics and eugenics."

Join the discussion now at #TalkingBiopolitics!

About the discussants
Nathaniel Comfort, Ph.D. is a Professor in the Department of the History of Medicine at The Johns Hopkins University. From 1997 to 2002, he was on the history faculty at The George Washington University, where he also served as Deputy Director of the Center for History of Recent Science. His research has focused on heredity and health in twentieth century America.

He is the author of The Science of Human Perfection: How Genes Became the Heart of American Medicine (Yale, 2012), The Tangled Field: Barbara McClintock's Search for the Patterns of Genetic Control (Harvard, 2001), and the edited volume, The Panda's Black Box: Opening Up the Intelligent Design Debate (Johns Hopkins, 2007).

Alexandra Minna Stern
, Ph.D. is Professor of Obstetrics and Gynecology, American Culture, and History at the University of Michigan. She is a Researcher in the Program on Sexual Rights and Reproductive Justice and a core faculty member in Latina/o Studies. Her research has focused on the uses and misuses of genetics in the United States and Latin America.
She is the author of Telling Genes: The Story of Genetic Counseling in America (Johns Hopkins University Press, 2012), Eugenic Nation: Faults and Frontiers of Better Breeding in Modern America (University of California Press, 2005), and co-editor of Formative Years: Children's Health in the United States, 1880-2000 (Ann Arbor: University of Michigan Press, 2002)